The Scholarship Foundation of St. Louis
Opening doors to education
The Scholarship Foundation of St. Louis provides financial and advice to students who otherwise would not have the financial means to attend college. Since 2011, we've worked with the Foundation to develop branding and communications tools that tell the Foundation's story to donors and community partners. Our work has included logos and branding, website development, annual reports, and a unique storytelling project that connected us with students who had received funding from the Foundation.
The Scholarship Foundation logo and the coordinating logo for the ScholarShop which was closed in 2018
"2020 Vision" guide to giving
The Foundation switched to an all-digital annual report in 2017.
The Scholarship Foundation website
"Renew Repay Recycle" annual report
"Getting There" annual report
web and postcard graphics announced the digital annual report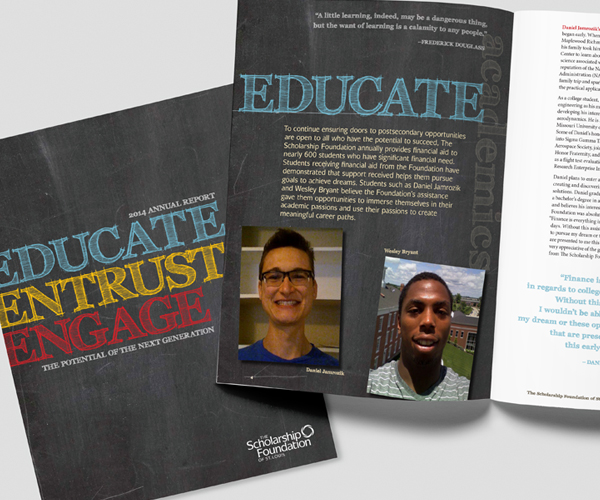 "Educate. Entrust. Engage." annual report
I just wanted to send a quick THANK YOU to the entire team at 501creative! On mobile, the site looks radically different and so, so much better. And working in WordPress is a huge improvement. We've already seen several new student loan payments come through successfully, and we've posted and shared the latest edition of Words of Faith just in the last hour!
Rob Foley
Director of Planning & Technology